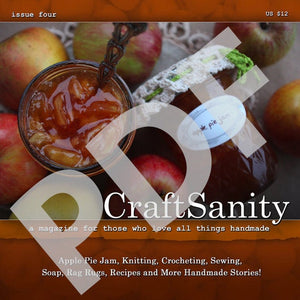 CraftSanity Magazine Issue 4 PDF Edition
Regular price
Sale price
$6.00
---
Note: This is the PDF version of the magazine.
Here it is! The fall 2011 issue of CraftSanity Magazine. From the apple pie jam on the cover to the other sweet recipes and crafty treats inside, this issue has a little something for everyone who takes a DIY approach to life.
This issue features a whopping 20 projects, patterns and recipes to help you stay toasty warm this fall. I also sprinkled in some handmade stories and Q&As with emerging and established artists, crafters and a couple train-jumping musicians, too.
In this issue you'll find patterns, recipes and tutorials to:
• Crochet lovely doily blankets, slippers, rugs, pillows and vintage inspired pot holders
• Knit cabled fingerless gloves, capelets for children and adults, tiny chickens and a feather patterned blanket with a story behind it
• Combine your knitting and crocheting skills to make a Granny Hybrid Hat
• Sew an apron and stuffed camel
• Make apple pie jam, apple butter, cinnamon sugar applesauce and try an illustrated recipe for freezer dills
• Whip up homemade soap and lotion and experiment with natural dyeing
You'll also get to meet Charlie, the potter, the fourth paper doll in our series, find out why it's awesome to stitch like your granny.
Issue 4 featured artists, crafters and contributors include:
• Lydia Adams
• Rose Beerhorst
• Dee Bellini
• Larissa Brown
• Jennifer Casa
• Cydney Colvig
• Rebecca Green
• Lisa Gutierrez
• Anna Hrachovec
• Sarah London
• Julia Rothman
• Amanda Blake Soule
• Laura Stantz
• Amy Stevenson
• and yours truly
This is a fun issue, folks, and I hope you really enjoy it. (My proof copy is already tattered from overuse. :)